The Marlen of Prague: Christopher Marlowe and the City of Gold
Historical Fantasy
by Angeli Primlani
---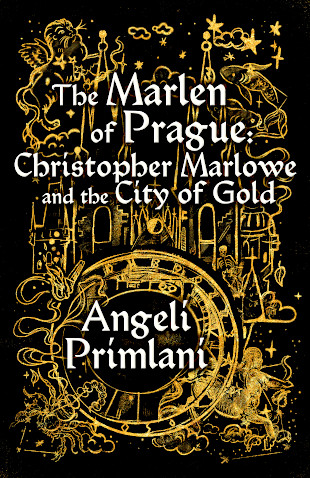 Christopher Marlowe, Elizabethan playwright, mage, and spy, is haunted by the ripples of powerful magics used to defeat the Spanish Armada. The world has changed, the stars themselves have shifted, and no one but he seems to notice.
Now he is sent by Queen Elizabeth's secret service to the court of Emperor Rudolf II in Prague, on the trail of English magician John Dee. Rudolf's court is a hotbed of mysticism, art, magic, and intrigue. Marlowe must navigate a labyrinth of politics and religion, hidden identities, and mischievous spirits if he is to protect those he cares about. He veers into a dangerous romance with his guard and jailor—a man he may have to kill.
How far must he go to protect magical secrets too dangerous to reveal, which in the wrong hands could throw Europe into chaos?
"Angeli Primlani's CITY OF GOLD is a quick-witted and swift-paced journey through the politics, plague, and perils of the 16th century. Centerstage of this whirlwind stands Kit Marlowe: poet, playwright, magician, spy. Primlani's Marlowe is the most honorable rascal who ever faked his death and moved on to greater adventures. He is utterly charming, completely beleaguered, theatrical, intelligent, desperate, and, despite everything, still so warmly human. Kit Marlowe and his quest in the CITY OF GOLD will catapult you into an earlier world—and even into the next." —C.S.E. COONEY, Author of Saint Death's Daughter
Angeli Primlani is a Chicago-based playwright, director, producer and actor. She was culture and features writer and online editor for The Prague Post in the Czech Republic. She was the founding Artistic Director of Accidental Shakespeare Theatre Company. Her play The Black Knight premiered in spring of 2022. The Marlen of Prague is her first novel.
Ways to purchase: