Soctland's Untold Stories
by Leonard Low
---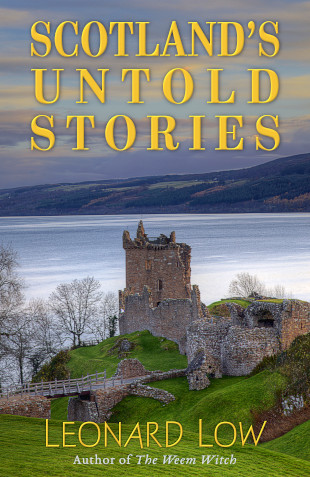 No Longer Forgotten from History:
The Lost Stories of Scotland Revealed
30 fascinating stories from throughout Scottish history. Meet pirates, heroes, and ordinary people: revealed through their letters, period news stories, and many other sources, combined with the author's personal observation, to fill in the details that have been forgotten by history.
Read about the veteran of Bannockburn with a mechanical hand, and the cannibal family that terrorised Dundee.
Find out how the people of Inverness changed history with a barrel of whisky, about Jack the Ripper's visit to a Scottish fishing village, and about a disastrous game of curling.
Leonard Low explores the dark and mysterious, the tragic and the heroic, and brings the stories to life with his evocative writing.
The Dundee Courier says — "Leonard Low brings dead history alive."
Leonard Low was raised in Upper Largo and now resides in Leven, Fife. He wrote the popular books Largo's Untold Stories and St Andrews' Untold Stories; now in the third book of his trilogy, he covers the larger canvas of Scotland itself. He also authored The Weem Witch and The Battle of St Monans, as well as numerous magazine articles, and was a consultant to the television show Outlander.
Ways to purchase: