Splinter
Have Humans lost their Humanity,
and can an Artificial Intelligence save them?
by Gustavo Bondoni
---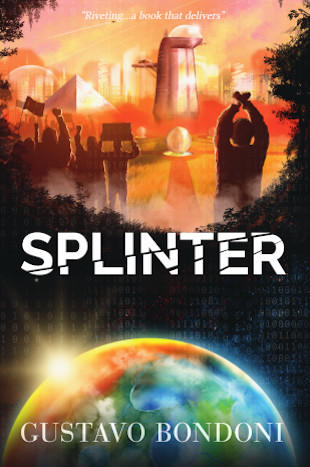 The Tau Ceti colony is a Utopia, but tension lurks below the tranquil surface. The peace of the colony is shattered when the Unity spacecraft returns from Earth bearing shocking news.
Rome Permek, computer officer on the ship, returned with a stowaway: Emily Plair, an artificial intelligence from Earth's cyberworld. But the colony is not the quiet refuge they hoped for. Some in the colony see her as a threat and will resort to anything to have her eliminated.
The colony erupts with the questions: Is artificial intelligence truly alive? What rights do they have? What constitutes a good life?
Follow Rome and Emily as they traverse the splintered paradise colony, orbital habitats, virtual environments, and distant worlds.
Sequel to OUTSIDE.
"A riveting, compulsively readable book. It questions if a computer program can come alive… An original story with developed characters, one of whom has multiple copies, offers unique details, a love angle and keeps you guessing until the end… It's a book that delivers."
—Jackie Kingon, author of Sherlock Mars and P Is For Pluto.
Ways to purchase:
EPUB Ebook from DriveThruFiction.com - Coming Soon